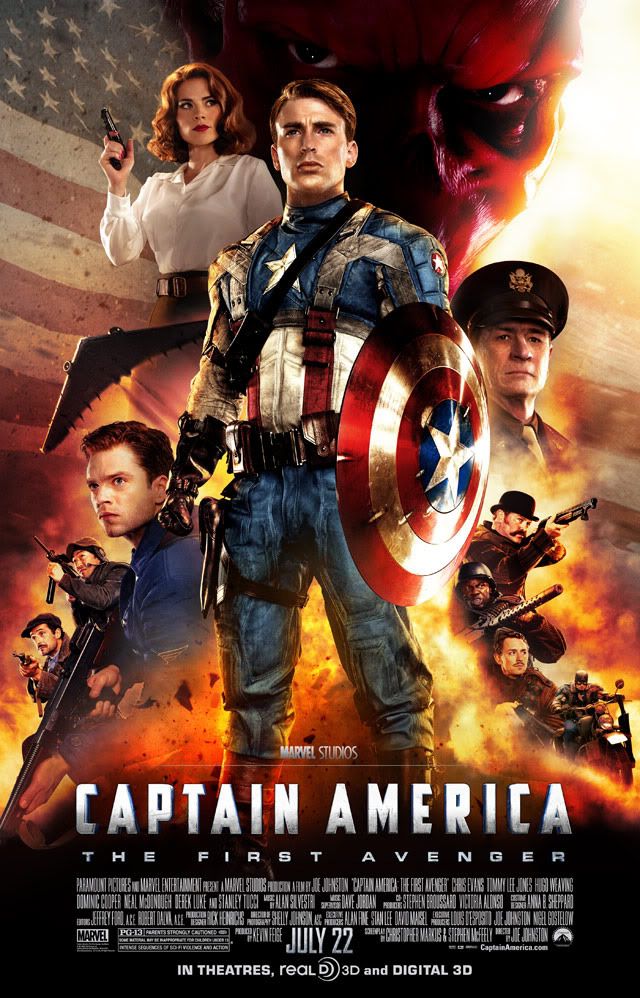 Un cool nuevo poster final(arriba) para Norteamérica de 'Captain America: The First Avenger', llega a nuestra colección. El nuevo poster muestra a gran parte de los actores que veremos en la película, desde Chris Evans, como el Cap, hasta los Comandos Aulladores y Cráneo Rojo, al fondo, interpretado por Hugo Weaving.

'Captain America: The First Avenger' se centra en los primeros días del Universo Marvel, cuando Steve Rogers (Chris Evans) se ofrece como voluntario para participar en un programa experimental que lo convierte en el Super soldado conocido como Capitán América. Como Capitán América, Rogers une fuerzas con Bucky Barnes (Sebastian Stan) y Peggy Carter (Hayley Atwell) para enfrentar a la maligna organización H.Y.D.R.A., liderada por el villano Cráneo Rojo (Hugo Weaving).

'Capitán América: El Primer Vengador' llega a los cines a nivel mundial el 22 de julio y el 28 de julio a Latinoamérica. La película cuenta con las actuaciones de Chris Evans, Hugo Weaving, Tommy Lee Jones, Neal McDonough, Sebastian Stan, Dominic Cooper, Hayley Atwell, Toby Jones y la dirección de Joe Johnston.