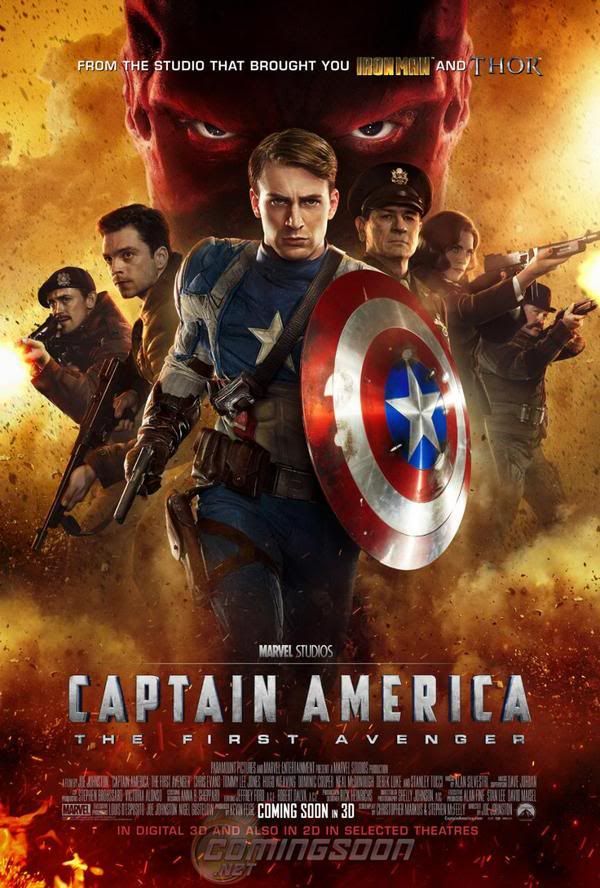 Paramount Pictures y Marvel Studios nos muestran un cool poster (arriba) internacional de 'Captain America: The First Avenger' la segunda película que el estudio Marvel estrenará este año y contará los origenes del otrora lider de Lo Vengadores. En el poster puedes ver, de izquierda a derecha, a JJ Field, Sebastian Stan, Chris Evans, Tommy Lee Jones, Hayley Atwell, Neal McDonough y al fondo, como Cráneo Rojo, a Hugo Weaving. Mira el poster en mejor calidad haciendo clic en la imagen.

'Captain America: The First Avenger' se centra en los primeros días del Universo Marvel, cuando Steve Rogers (Chris Evans) se ofrece como voluntario para participar en un programa experimental que lo convierte en el Super soldado conocido como Capitán América. Como Capitán América, Rogers une fuerzas con Bucky Barnes (Sebastian Stan) y Peggy Carter (Hayley Atwell) para enfrentar a la maligna organización H.Y.D.R.A., Liderada por el villano Cráneo Rojo (Hugo Weaving).

También te mostramos un nuevo TV Spot, el número 9, con varias rápidas escenas de la cinta que se estrena este mes:
'Capitán América: El Primer Vengador' llega a los cines norteamericanos el 22 de julio, el 28 de julio a Latinoamérica y el 5 de agosto a España.